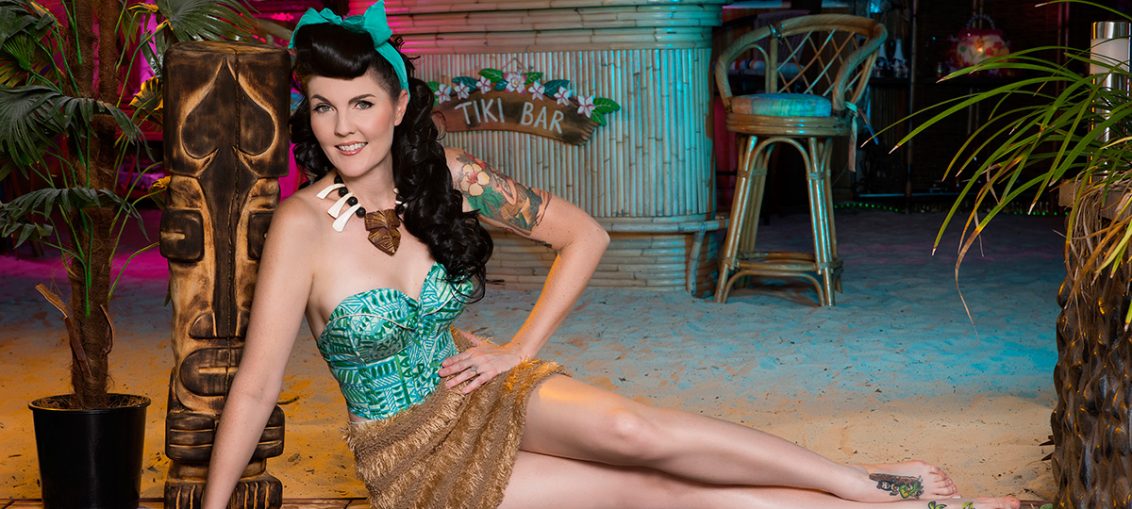 Tiki Goddess Aims for the Heavens
Danielle Mann is one of Australia's premier tiki artists, and the founder of Black Lagoon Designs. Well known for her fun and unique tiki mug designs, her work has been showcased at the Mecca of tiki culture, Tiki Oasis, and in countless publications and art galleries in Australia and the US.
Retro Betty Editor Francie Flathead talked to Danielle about all things tiki, kustom kulture and the supportive nature of the tiki community.
Retro Betty: How did you get started with your tiki art and where did your love of tiki art come from?
Danielle Mann: I grew up around mostly Papua New Guinean art because my father lived there before I was born.
He had all these tribal masks around the house, so I really like all kinds of tribal art. African tribal art is so cool, their masks, carvings and everything about it really. And I really like kustom kulture, and I really love the rockabilly style and fashion, and tiki is just part of that.
I have always been a ceramic artist. I have been making ceramic jewellery for 10 years and I've had that in galleries and shops around Brisbane. So one Christmas I thought I'd make a friend of mine who loved tiki, a tiki mug. I'd never really made anything too crazy with my clay.
I made one, and it looks really bad now, but at the time I thought it was the coolest thing ever. And they did too. Then I just started making mugs for my friends and it went from there.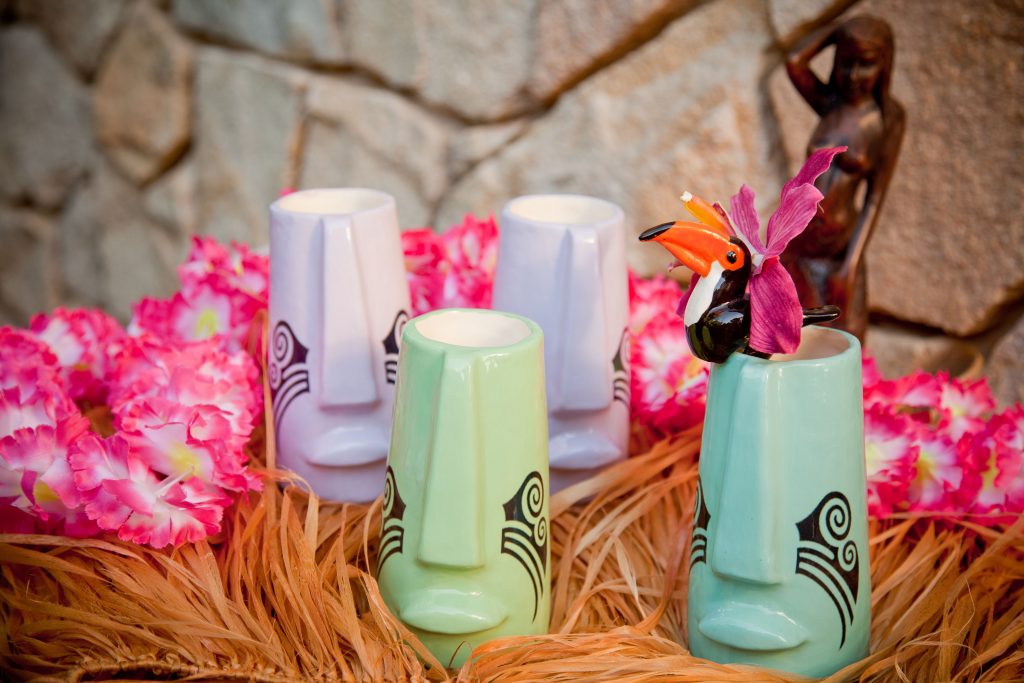 RB: Are you a collector?
DM: Ah yes! [Laughs] You should see the house. It's pretty crazy. There are crazy masks and tiki everywhere.
I love the fashion too. Everything that goes along with tiki is just cool. I love the fashion, I love the prints and the shapes of the dresses, they're just really cool.
RB: You've made tiki mugs for big events, Tiki Oasis for example, and for Bachelor Pad Magazine in the USA. Tell me about that and how it came about…
DM: I got in touch with the Bachelor Pad guys and thought maybe it would be cool to be in an article or something. So I sent them some pictures of a shoot I did at Tiki Oasis and some shots of my tiki mugs and said 'hey I don't know if you guys would be interested, maybe we could do a story together?' and they were all for it. And then we got talking about doing a mug together and came up with that little guy and it snowballed, it was massive over there and they're thinking of doing another one this year.
I think now he's become an iconic little shape, he's kind of a little famous mug now. So I'm pretty proud about that. And Java from Bachelor Pad is just such a cool guy.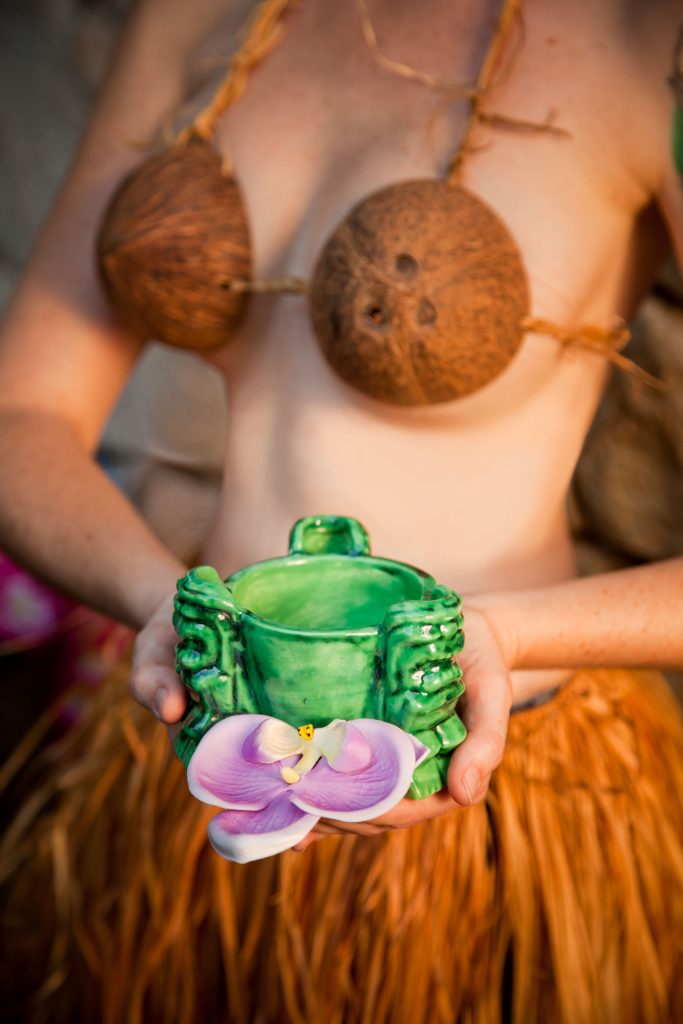 RB: What was it like being involved in Tiki Oasis?
DM: It's so cool and I've spoken to the organisers again this year to hopefully do a room party mug.
They have these amazing room parties, they pretty much move all of the furniture out of the rooms and have a major party in each of them. There's probably about 15 room parties going on. They all have a theme, and all have really cool surf bands playing and go-go dancers. They usually have a Bachelor Pad room, and each different room is sponsored. Hopefully I'll get teamed up with someone pretty cool and do a mug for them. It's monster theme this year which is going to be really cool.
RB: You've met a few tiki artists along the way, and it seems to be fairly male dominated, and some artists tend to keep their methods fairly close to them. Have you found that with tiki?
DM: No way. Everybody is so willing to offer little tidbits on 'this glaze is good or you should contact this guy' and I feel like this is the whole mantra for the tiki community, everyone kind of helps everybody to push us up as a whole as a community, and an arts community.
Wayne from Wild Thing Creations is a good example of this. I'm doing a collaboration with him at the moment for another festival and he's helping me. I've made the mould and he's producing them for me. And he's always telling me about great glazes and who's art I should check out.
We're all very supportive of each other and I think that's a good thing. I don't like politics and I don't like anything like that at all.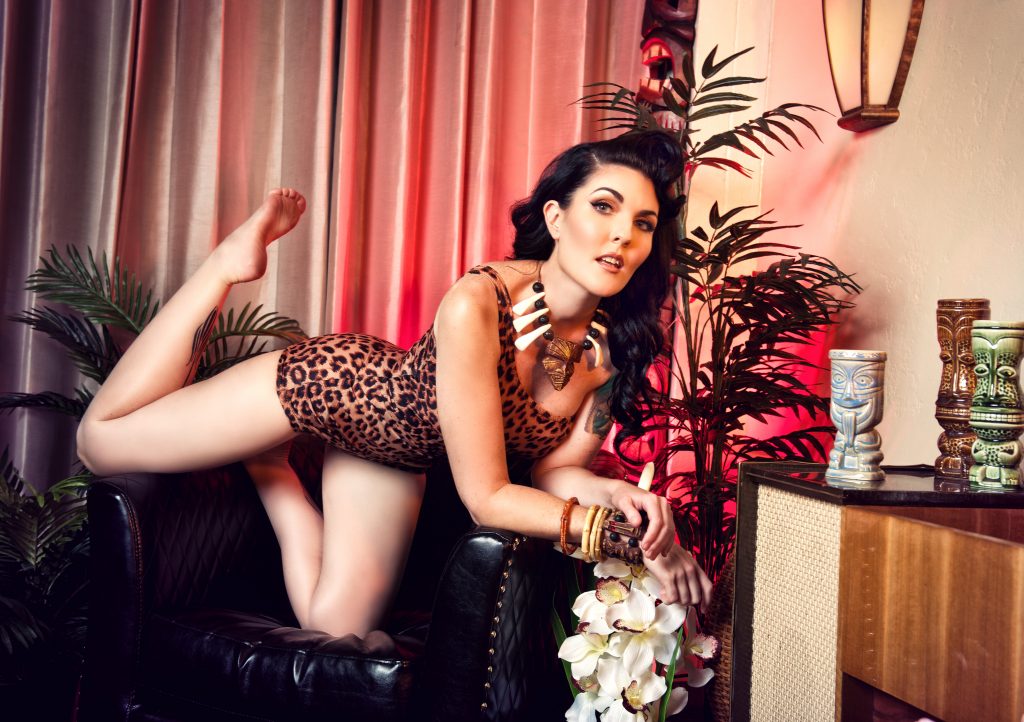 RB: Who is your favourite tiki artist?
DM: My favourite artist is definitely Van Tiki. He's a ceramic artist. There's a lot of carvers but this guy works with ceramics, and he's just amazing. He's made these mugs that look like giant tentacles and you tip the mug upside down and drink out of the tentacles. He's just wild. I haven't had a chance to meet him yet.
My next favourite would probably be Crazy Al and he's the guy who married us in The States [last year at Tiki Oasis]. He really is crazy, an amazing looking mountain man. He's a very awesome carver too. He's got his work in so many tiki bars and he creates mugs as well. They're just amazing and he's such a crazy personality.
RB: Tiki is a big part of your life. If you hadn't become involved in tiki art would you have met your husband?
DM: You know what? Actually no. I met him at a show selling tikis and he came over and bought a tiki from me.
We just chatted then and then we'd meet up at shows, and if it wasn't for tikis I wouldn't have met Evan and he's the best thing that's ever happened.
He's the best ever. He's so supportive and he's totally got the tiki bug now, he's infected! There's even a tiki bar at his shop [Johnny Voodoos Barber Shop in Brisbane] now.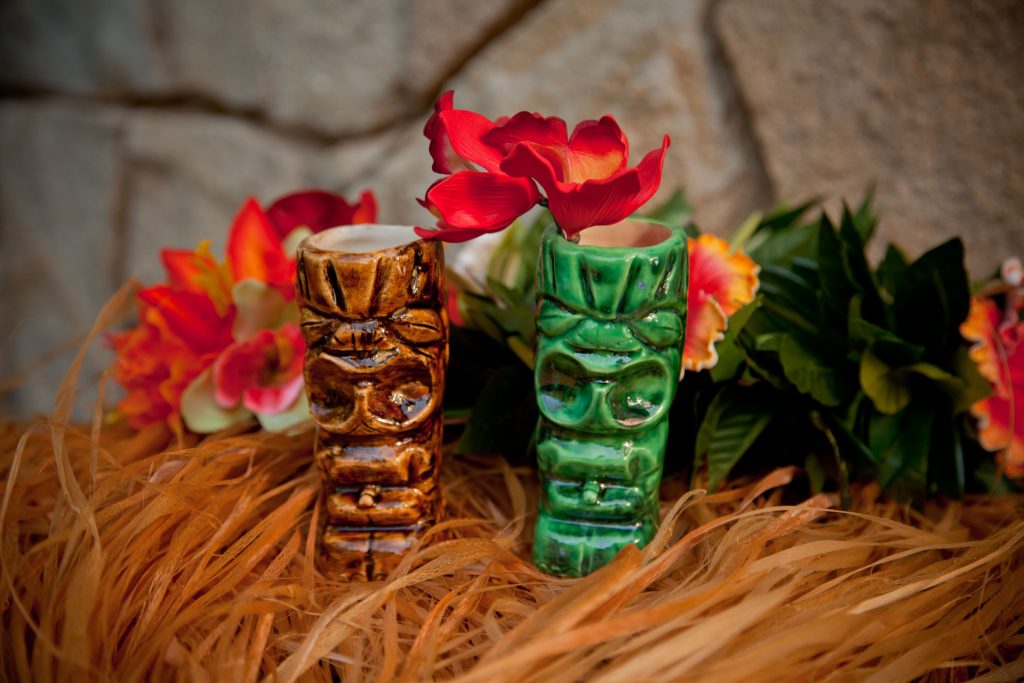 RB: Where do you see Black Lagoon Design going in the future?
DM: I'm really hoping a Tiki Farm mug, working with Tiki Farm is my ultimate dream. I've been in chats with them so hopefully something will get off the ground. I just love working with other artists and people seem to like what I do so I'm happy with that!
RB: You have a day job as well,  so how do you split your time between the two? You're obviously a very busy lady.
DM: Oh my god yes it's out of control! [laughs]. I work for a property developer during the day, but if I need to go do an event they're supportive.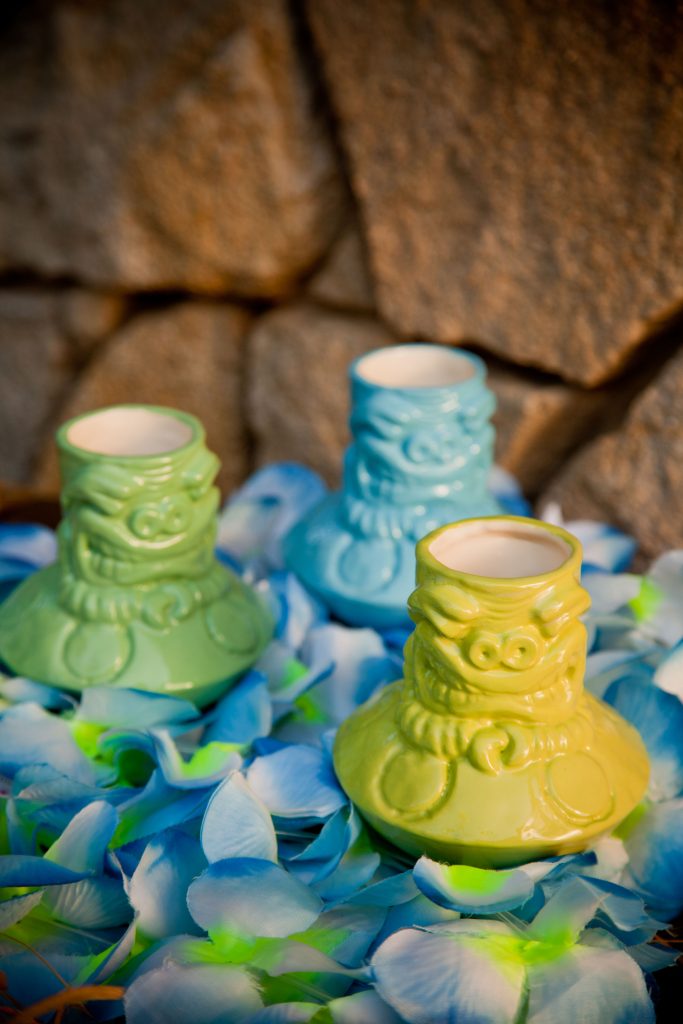 RB: Is it the dream to make Black Lagoon your full-time job some day?
 Absolutely. I've just taken a 10-week career break and I got so much done. I would definitely love to make it my full-time thing.
RB: Finally Danielle, can we ask you to do our Betty's Fast Five – we ask all our interviewees the same five questions..
Betty Grable or Bettie Page?      Bettie Page
Elvis Presley or Johnny Cash?   Johnny Cash
Wet Set or Victory Rolls?             Victory Rolls
Swing Skirt or Wiggle Dress?      Wiggle
Chevy or Ford?                                    Chevy