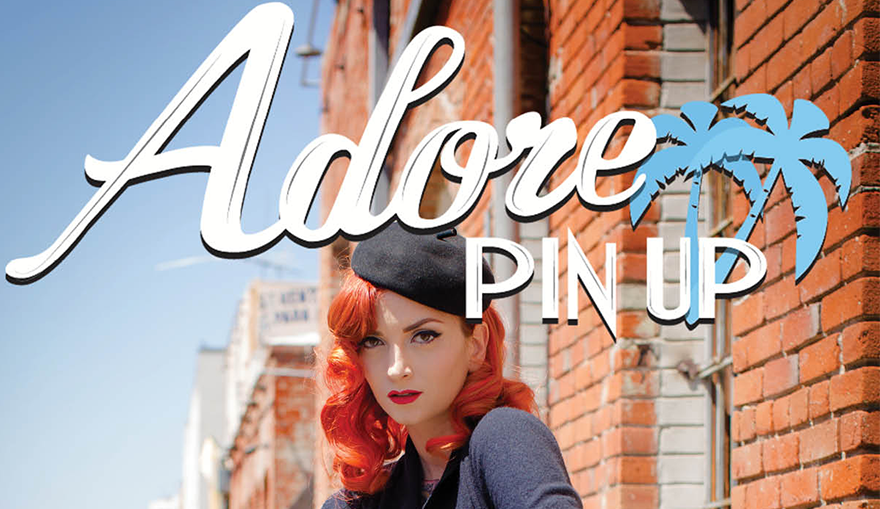 Adore Pin Up is Australia's number one pin-up magazine and at it's helm is one talented lady in Brianna Blackhart. At only 22 she's producing a high-quality publication to rival international magazines, she's a published pin-up herself, she's studying law, and all while advocating body confidence and championing diversity in pin-up.
Retro Betty Editor-in-Chief Francie Flathead caught up with Brianna in some of her rare spare time to chat about the magazine, and her love of all things vintage and pin-up.
Retro Betty: Adore Pin Up is Australia's premier pin up mag, so big congrats on such a high quality publication. What inspired you to start Adore?
Brianna Blackhart: Thank you! My furore into the world of pin up and burlesque started the way it probably started for a lot of girls – I began following the blog and Instagram of a local girl in the scene, Miss Jemima May. I started with a couple of likes and comments, and soon 17 year old me was checking up on her every post, following the girls in her burlesque troupe, and eventually working up the courage to ask if I could come along to training. It didn't take me long to fall in love with the world of red lipstick, back seam stockings, photo shoots, pageants and performances. The girls I met that first day of class became good friends, and we started our own performance troupe together, La Darling Dolls. The Dolls and I became hooked on following pin up magazines and doing new shoots, and we would try our best to get ourselves published, and always let each other know when we saw an update for a mag taking submissions, a theme announcement we thought would suit one of us, or a new publication that had cropped up.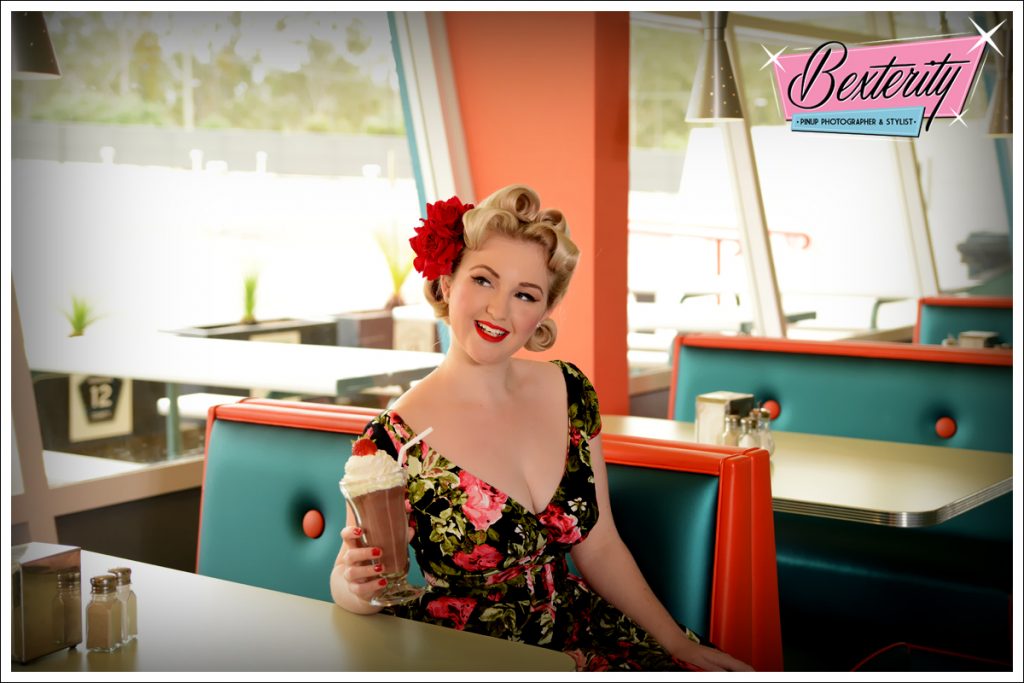 Adore Pin Up Editor Brianna Blackhart in pin up mode. Photo, hair & makeup by Bexterity PinUp Photography. Taken at Skyline Drive-in. Wardrobe: Siren Clothing.
I became disappointed with the lack of Australian representation – there were more and more of us Aussie girls being featured in these largely American magazines, but no one ever knew that we were Australian, and there wasn't a magazine in Australia we felt like we could get our photos into (we loved Deadbeat and Pinup Skool, but boy was it hard to make it into them because of their high quality and mass following).
I also grew frustrated with the 'male gaze' that seemed present over a lot of pin up publications at the time. I didn't want to be pinned up as some 'sexy girl' in a magazine that was so made by and for men that it felt isolating, and I certainly didn't want to be subject to a Facebook comment section full of sleazy comments.
I knew the history of the pin up girl, but I felt we had moved on from it, and that women today were appropriating the 'pin up' into something all of their own. Something synonymous with confidence and independence, something for all bodies, and something we were in control of. I wanted to feel like when I was sending my photos out, I knew I was going to be represented in a way I was happy with, and I wanted my friends and other women in the scene to have that same feeling, as well as more opportunity to do so. As a big reader I was also aching for just 'more' – more magazines on the market, more to read within them, and more information about pin up models than just their names in a photo book.
It took a while and a lot of confidence building to turn what I knew I wanted into a solid idea, then into a working plan, and then into action, but two and a half years later I'm so glad I made that jump. The doors it opened for me to meet new people, and develop skills in business management, design and marketing, have made a hugely positive impact on my life.
RB: We know you are currently studying law, but do you have a day job as well as creating the magazine? And how do you find time for it all?
BB: I have more of a 'night job' than a day job – I work evenings as a waitress on dinner shifts in a local restaurant. During my weekdays you can usually find me in class, in the library or in the office of whatever legal work experience I am doing at the time.
I often wonder the same thing, in terms of finding the time. It's definitely not a glamorous lifestyle, and some people might be surprised to know I'm not in 'pin up' very often. These days I enjoy it more when it's time away from my intense schedule – dressing up for something special, rather than the burden of trying to make myself get out of bed even earlier. Instead the magazine keeps me connected to it all, whether I'm in a suit, pasta sauce splashed work clothes, or pyjamas.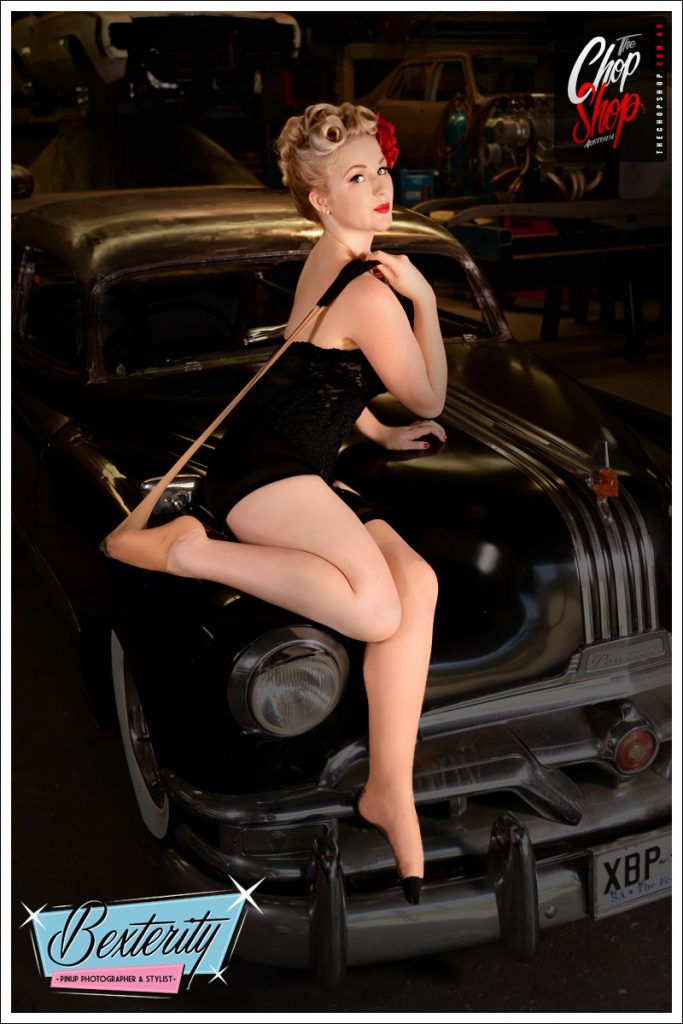 Adore Pin Up Editor Brianna Blackhart in pin up mode. Photo, hair & makeup by Bexterity PinUp Photography.
RB: Adore is now pretty much Australia's only pin-up focussed magazine, particularly after the demise of the much-loved Deadbeat Magazine. How do you keep the mag viable when magazines seem to be disappearing left, right and centre, both here and in the USA?
BB: People often point out to me that I'm one of the few pin up mags in the world still publishing as if it's some kind of great benefit to me, but I started all this because I liked following them and trying to get my work into them. I miss my favourites, Deadbeat, Pink Bow City and The Powder Room, and I'd rather they were still around for me to read and look up to.
The small-run magazine business isn't pretty, behind the beautiful girls and glossy pages. It works while I enjoy it and treat it as my hobby, but the minute I try to consider it my job I think it would all fall apart. Thirteen issues under my belt now means well over a thousand hours of unpaid work, and it has always been entirely self-funded on my casual hospitality wages.
I don't always break even, but I make sure I don't take huge risks. So whenever I hear of a magazine dropping off the circuit or a new one that failed to launch properly, it really isn't a surprise, and I hope anyone wanting to enter it all is realistic about what it can be for them financially, and doesn't jump in too deep.
RB: What do you love most about pin-up and the pin up culture in Australia?
BB: Obviously I can't bypass the fashion – it's what connects all of us – but my favourite thing in a way is everything else. I love talking with people about the connection between feminism and pin up, about issues like body positivity and cultural appropriation and how we can relate them to what we love and learn to do what we love in a more ethical way. I also love finding out about what models do for a living and what their other passions are.
Take my last few cover models for example – Tara Radcliffe is a chef, real estate agent, sex therapist and lifestyle blogger; Addie Hamilton is an Emmy-nominated singer-songwriter; and Victory Lamour is the vintage persona of best-selling novelist, activist, journalist and television presenter Tara Moss.
The networks, friendships and support systems between everyone in Australia will always be my favourite thing about what we have here, and it's the reason we have a shared culture and not a bunch of people wearing similar makeup.
RB: Adore has supported a lot of Australia's top pin up competitions, which ones are your favourites or which would you recommend girls to enter?
BB: I've worked with Miss Bombshell, Garterbelts and Gasoline, Miss Pinup New Zealand, and burlesque competitions Miss Burlesque Australia and Burlesque Idol. They all share mutual goals of supporting women in their practice as well as in their friendships, businesses and community connections, so it is very difficult to pick any kind of favourite. I was fortunate to be invited to Miss Bombshell as a judge last year, I've racked up a few MBA shows, and went along to see Burlesque Idol Newcastle earlier this year, and they were each engaging, glamorous and funny shows. With pageants particularly, it's easy to forget competitions are really supposed to be shows, and the best ones are always as good for the audience as the girls on stage. I would love to travel to more festivals next year when I've finished my law degree, and hope to one day experience the Very Vintage Day Out in Auckland and their Miss Pinup NZ comp.
I have two main pieces of advice with choosing a pageant to compete in. First, start small and nearby – find what is close to you and build up some stage experience before you go all out and travel a long way or spend a lot of money. Secondly, talk to people before you invest.
Pin up girls are very good at being very positive on social media, and this comes with its upsides and downsides. A couple of private chats, preferably offline and off-record, will help you gain a better picture of which events foster the most supportive environments.
We continue our chat with Brianna in Part 2 of our Adore Pin Up interview. Stay tuned!