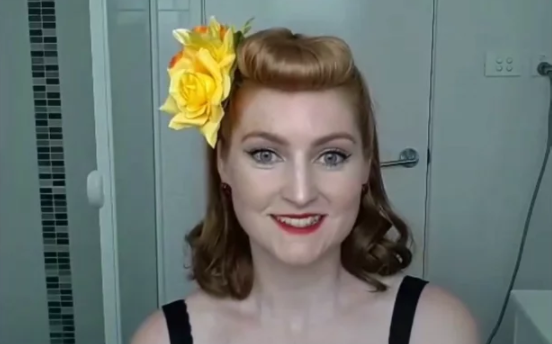 Retro Betty Hair and Beauty Editor Mavis Mayhem shares this popular vintage-inspired hair style creating a faux bangs look, combined with loose curls and a hair flower.
Retro Betty Faux Bangs Vintage Hair Tutorial from Retro Betty on Vimeo.
This vintage-inspired style works in both long and shoulder length hair, but you will need a long fringe or long layer bangs to create a faux bangs look.
For this style you will need:
Curling iron
Hair donut or small hair piece
Bobby pins
A tail comb
Paddle or 'brush out' brush
Big Sexy Hair Get Layered hair spray
Big Sexy Hair Backcomb in a can
Hair flower (optional)