Editor-in-Chief
Francie Flathead (Kirsty Wallett)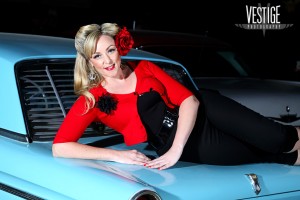 Kirsty is a former journalist with more than 12 years experience in the media, marketing and communications industries.
Raised as the first daughter of a hot rodder, Kirsty is a petrol head in the true sense of the word. She's in the early stages of building her own hot rod (a 1947 Ford Tudor) and owns "Betty" a 1964 XM Falcon as her daily driver.
Kirsty loves pin-up and retro style fashion, and has been lucky enough to shoot with pin-up photography legends including Holly West, Mitzi and Co, Shannon Brooke and Sherbet Birdie Photography, being published in Australian and international publications. She was the face of the Rods and Rockabilly Festival Miami 2016 and Miss Queensland Hot Rod Show in 2015.
Associate Editor
Mavis Mayhem (Jenna Wallett)
Jenna is a qualified hairdresser and stylist, with 13 years industry experience. Like Kirsty, she was raised in her dad's hot rod garage and has hot rodding culture running through her veins.
Jenna was inspired to enter the hair industry by her perfectly coifed grandmother Mavis and developed a love of vintage hair styling in her teens. She has since worked on high-end fashion shoots and in professional salons.
Jenna owns a 1964 XM Falcon 'Bobbi Sue' and is building a 1946 Ford Jailbar.
Associate Editor
Miss Anna D'Amour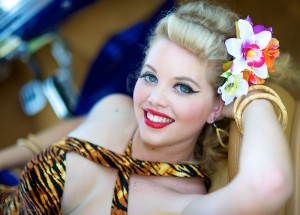 Like Kirsty and Jenna, Anna is second generation hot-roddder, born into hot rod culture, which fueled her love of classic cars, the pin-up lifestyle and mid-century culture. In her spare time she's living the dream and building a 1930 Ford Coupe.
Anna is a qualified teacher, and when she's not wrestling rug rats she's posing up a storm with her pin-up modeling, having been published in both international and Australian publications. She was the face of the 2015 Queensland Hot Rod Show.